Recently, there has been a rash of students needing to use Publisher to complete a brochure assignment. Since we only have a few computers that can still run Microsoft Office, and even fewer that actually have Publisher installed, the need for a replacement became quickly apparent.
So, I found two FREE options that I thought I'd share with you. The first we already all have access to and the other is just a few clicks away. Both options give you web-based storage, the ability to collaborate with group members or friends, and both work very well on virtually ANY device, especially Chromebooks.
Did you know that you can change the size and shape of a Google Slide presentation to 8.5×11 (the size of a normal piece of paper)? Then, you just use the already-included options to add pictures, text boxes, lines, drawings, and whatever else you might want to add. Add a video and make your brochure interactive!
Here's how to change the shape:
Open a new blank presentation.
Click "File" then "Page Setup".
Then click "Custom" and make it 8.5 x 11.
---
2. LucidPress
This Chrome add-on is free and works through your browser as a web-based app. Using Chrome, simply go to 
THIS LINK
, add the program to your browser and let the creativity flow. They even give you free brochure templates!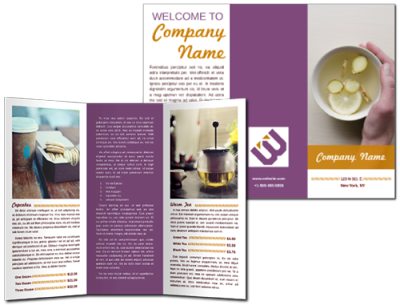 This is what the developers have to say:
A web-based tool that helps you intuitively produce stunning print and digital newsletters, flyers, brochures, photo books and more.

Lucidpress enables anyone to create stunning content for print, mobile or web.

PERFECT FOR PRINT: We've eliminated the frustration of traditional layout tools — easily create flyers, brochures, newsletters, magazines, and photobooks.

DYNAMIC FOR DIGITAL: Quickly create digital documents for viewing on a computer, tablet, or smartphone. Free yourself from the bounds of the printed page with scrolling areas, and enchant your audience with videos, galleries, and interactivity.

MANY TEMPLATES FOR DIGITAL & PRINT:

Newsletters
Brochures
Flyers
Reports
Posters
Presentations

POWERFUL & EASY TO USE:

Drag and drop text, images, image galleries, and video
Access content from Google Drive, Youtube, Dropbox, Flickr and Facebook
Publish digitally via a customized link
Print a PDF or export as PNG / JPG
Dedicated support team to address your questions

BUILT FOR COLLABORATION:

Real time collaboration
Unlimited number of simultaneous collaborators
Document presence and group chat
Object-specific commenting